We are back from a more-eventful-than-we-cared-for trip.
In a nutshell, we learned the housing process for military families is lengthy, completely out of our control, and the options are very few. So. There was that.


And then on our way home my transmission decided it was done. We broke down in Selma, NC, on the side of a long forgotten road with 4 anxious kids and shoddy cell service on a Sunday morning when 99% of the South is closed.

So, then that.


We ended up getting a hotel room, renting a mini van the following day, and leaving our Expedition at the Ford dealership in Smithfield, NC and made our way home. We debated waiting for the car to be finished but didn't want the kids missing any more school....or baseball ;) As I type this my husband is making the drive back to Smithfield, a 14-hour round trip haul, to turn in the mini van and retrieve my Expedition. He's a trooper, my husband is!
But the trip was not all frustration and break downs.


I got to see a friend I have really missed for the past few years and her 2 wonderful kids. Her husband is in Iraq right now, so our dominos game was definitely down a dude, and at one point, I know Kacie felt the weight of his absence. Having been the 'single Navy wife' just recently, my heart sunk for her. This military wife bit is not easy, y'all. But once we get up there, Aaron will be home and we will get our foursome domino fest back on track....assuming MY husband won't be deployed at the time, of course :)
I also fell a little in love with our soon-to-be new area. It is equal parts farm country, industrious big city, and laid back beach town, with a healthy kick of Sailors, Airmen, and Marines to patriot things up a bit. My kind of place.

The kids cannot wait to move. Okay, so this isn't their best "OHMYGOSHWECANNOTWAITTOMOVEUPHERE!!!" face. But it was late and they were really into Soul Surfer.


We were missing 2 boys here. Jack gave me the stern 'no flash photography' face, and Kyle, Kacie's oldest, was at work. Do you see Hanah loving on my baby girl? That is definitely going to come in handy once we get up there :)
And just to make sure we didn't end the trip on a sour note, we stopped for a little Carolina sweetness. Every time we cross into South Carolina, we stop at the
Carolina Cider Company
.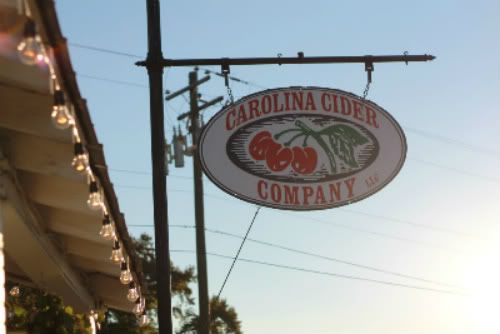 You guys? It is THE best! The BEST!!!! Aside from the quaint southern charm and gentility the place just oozes, the pies are delicious (and
AWARD winning
!!), the cider is out of this world, as are the preserves, sauces, dips, salsas, candy and all other local confections they offer.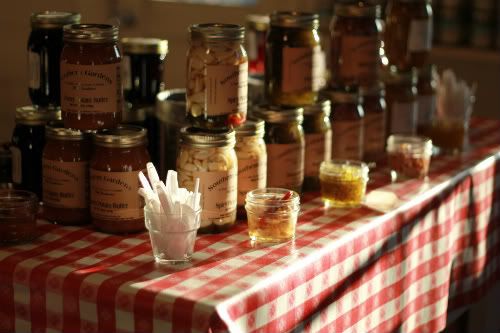 I have forced (nicely, of course) my husband to drive an hour out of our way just to hit this little place up! And if you are not the pie/cider/preserve/chutney/salsa/pecan type, you can always just stop in and get a cold bottle of Sun Drop to drink while rocking on the porch. Let a little southern breeze wash over you and listen to the twang of the banjo strumming from the speakers.
But when you're done with your Sun Drop, you should probably type "Emergency Room" into your GPS so you can determine what is wrong with you that pies, pecans, and preserves don't lure you in.
I am not a pie girl (my husband likes to remind me of this while we are driving 50 miles in the "wrong" direction), but their apple pie....it'll make you moan with delight.
As you can tell, I am sweet on this little store.
But not nearly as sweet as I am on these treats.....
Tyler couldn't be bothered with a smile....he was too busy deciding which flavors of honey he was going to choose. I get it, son. I really do.