Last Thursday was the Flag Retirement Ceremony at my kids school. The retired the flag that had been flying for the past five years, since the school's opening, and replaced it with a new one.
To commemorate the occasion, a Color Guard from the Navy assisted in the taking down, while students sang patriotic songs, and Tyler's class read aloud the book of the month:
America's White Table.
The story is touching and is told in a way that younger children can understand some of the sacrifice that our military make. All of this obviously coincided with Veteran's Day.
A note was sent home a couple weeks ago asking any active duty military parents to come dressed in uniform, and since Tyler had a speaking part, it was even more special that Jeremiah was able to attend. You guys......he never gets to attend anything! Anything!!! He has missed all of the student of the month celebrations where one of his kid's was honored, he has missed all quarterly classroom awards and honor roll ribbons, and holiday parties and fun runs and everything else you can think of. Since my kids have been at elementary school, he has been either deployed or to busy to be allowed a little time away to be at any school function.
But he made this!
Here are some pictures of the event. I was really impressed. One of my favorite sounds is hearing children sing together, and listening to the precious littles voices singing our Nations's anthem gave me soft chills.
And then the book. Just trust me on this, you should read it. Especially if you are a military family. Most of the children who read an excerpt from the story were military children. In one particular part, tears filled my eyes.



"We push an empty chair to the table for the missing soldiers who are not here....."
The little boy who read that part had no Daddy to stand behind him, because his Daddy is serving in Iraq. I think people sometimes overlook the fact that their are families left behind. More importantly, there are children who are without their mommy or daddy.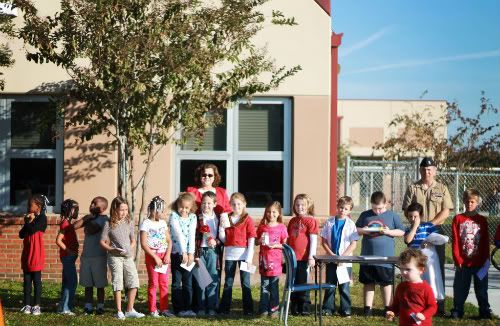 I was so happy that Jeremiah was able to be standing there behind our first little love. But a part of me was heavy with sadness for the little boy who was without a daddy that day.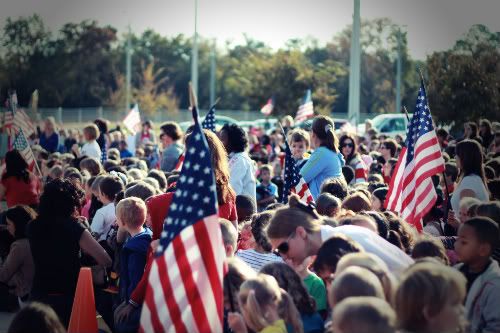 --------------
"That piece of red, white and blue bunting means five thousand years of struggle upwards. It is the full-grown flower of ages of fighting for liberty. It is the century plant of human hope in bloom."
~Alvin Owsley